Lisa joined the Raby team in September 2021 as our new Retail Manager. Brimming with fresh ideas and enthusiasm, we're very excited to see her developments and future plans for the Shop unfold. We caught up with Lisa to find out more about her background and why she wanted to join the team at Raby.
Where did your career take you before joining Raby?
Well, I'll try to be brief as I've worked in retail for around 127 years! I lived in London for 15 years and did my training at Liberty, Regent Street, ending up managing their bookshop. I then did a stint at Borders Books before working at Harvey Nichols for a few years. I decided London was just too hot for me, and left after one particularly hot summer and came back north to open my first shop, Oswell's in Barnard Castle. After a few years away and a job managing a farm shop, I then came back and opened Oswell's again, which is where I have been for the last nine years.

What has surprised you about working at Raby?
Just how many departments there are involved in the whole Raby Machine! From farming to forestry, it's a widespread operation but it feels friendly and down to earth, not stuffy and corporate.
What impact, style and taste have you added to the Stables Shop?
I hope I've managed to inject some of my own style into the shop, whilst being mindful of what the Raby customer might want. I would say the style we've developed is both classic and contemporary, with an emphasis on British-made products and beautiful design.
What product lines do you look forward to developing?
I'm excited about getting going on developing a range of Raby brand products; I've already started my research. I want to get into the Raby archives to see what we can use in terms of designs that would be unique to Raby.

What are you looking forward to most about working at Raby?
Working as part of a team. It can be lonely working for yourself, so to be surrounded by a team of friendly people who are all watching out for you is lovely. And I have to be honest, just the fact that I will be arriving at work at a beautiful castle every day – I mean, it's a joy!
Which event are you most excited about?
Well, that would have to be the Christmas Shopping Evening on 4th November. Our Christmas season will launch, and the shop will be full of beautiful decorations, Christmas cakes, puddings and gifts galore.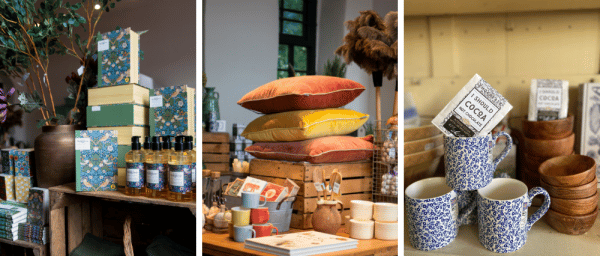 ---
Our Stables Shop is currently open Wednesday – Sunday from 11am, but please check our opening times for updated information before your visit.
If you are interested in working or volunteering at Raby, please visit our Vacancies page to see our latest opportunities.