International Dog Day | August 26th
In celebration of all things canine on International Dog Day, we're looking at some of our fav-FUR-ite relationships between the Vane family and their four-legged friends in Raby's collections.
The history of domesticating dogs spans thousands of years, and they have historically been used for working, hunting, and as lapdog companions for the elite. As pets began to be an accepted part of domestic life, they were seen as part of the family, regularly appearing in paintings and photographs. This portrait in the Baron's Hall of Raby Castle shows Gilbert, the 2nd Lord Barnard, with a spaniel at his side. Gilbert owned Raby Castle from around 1723 until his death in 1753.
Dogs were extremely popular pets during the Victorian period, admired for their loyalty and faithfulness, and helped along by Queen Victoria's vast collection of dogs. Many were frequently mentioned in her journals, including Dash, 'a spaniel of perfection,' and Eos, who became Albert's 'constant and faith companion for ten and a half years.'
At Raby, the 4th Duchess of Cleveland was often photographed with various pet dogs. In her Visitor Books, in which she encouraged guests to leave a contribution after their visit, there are frequent mentions of a particular dog, Norman.
After recording the death of her 'dear dog, Bruno' in October 1880, Norman first appears in October 1881 in a poem and drawing of 'Norman de St Bernard':
'Of lofty mien, of lineage old,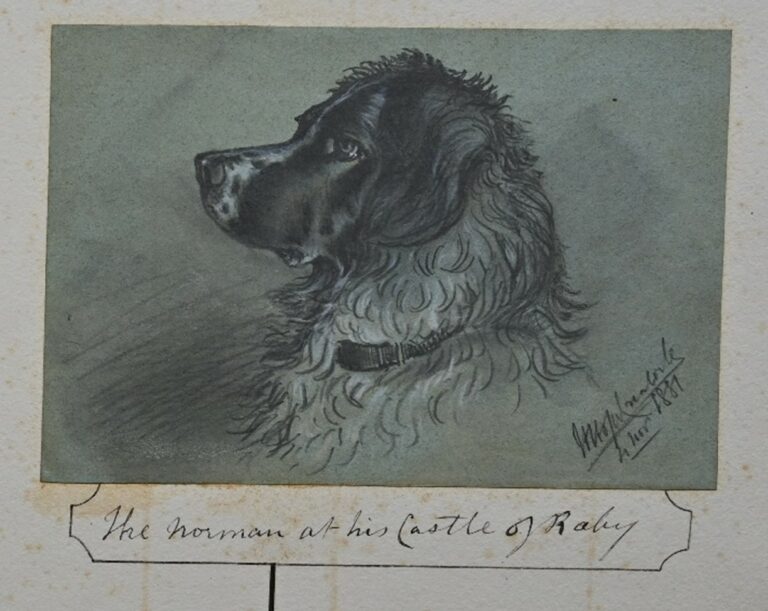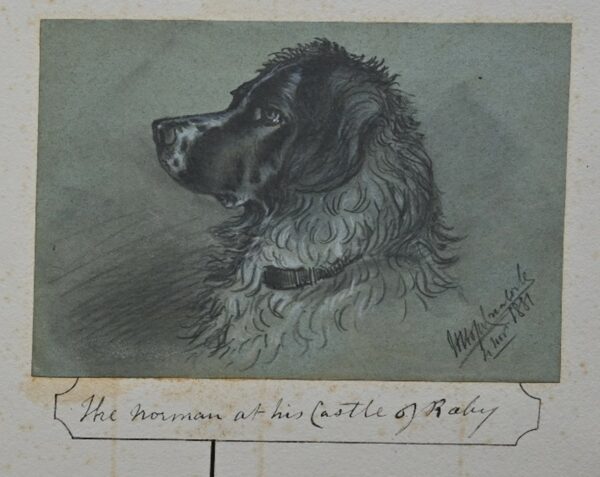 Sprung of a race in duty bold,
Admired by all that on him look,
Behold his portrait in my Book.'
Norman then begins the next Visitor Book in November 1881, alongside a photograph of the 4th Duke of Cleveland, and in a picture with the 4th Duchess: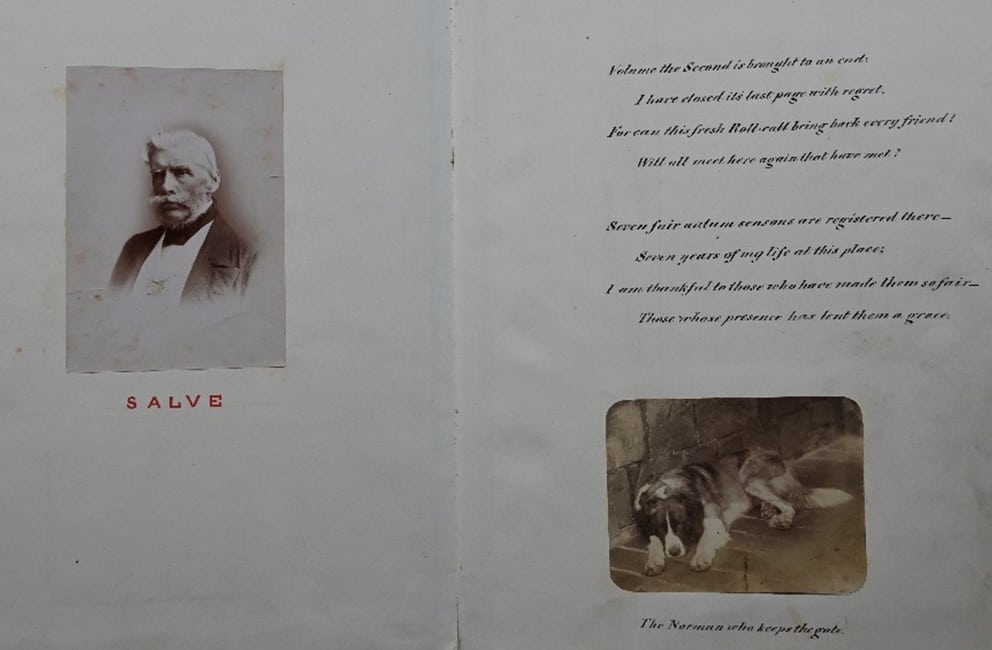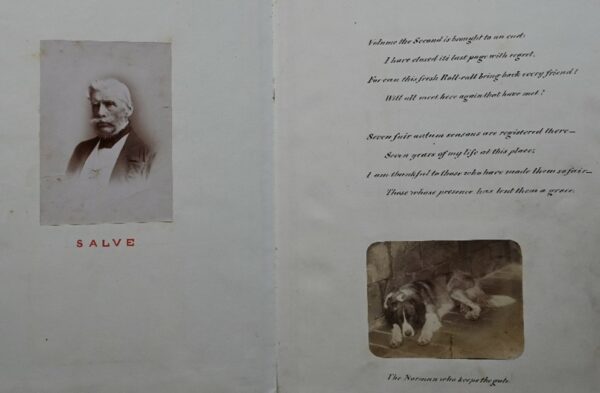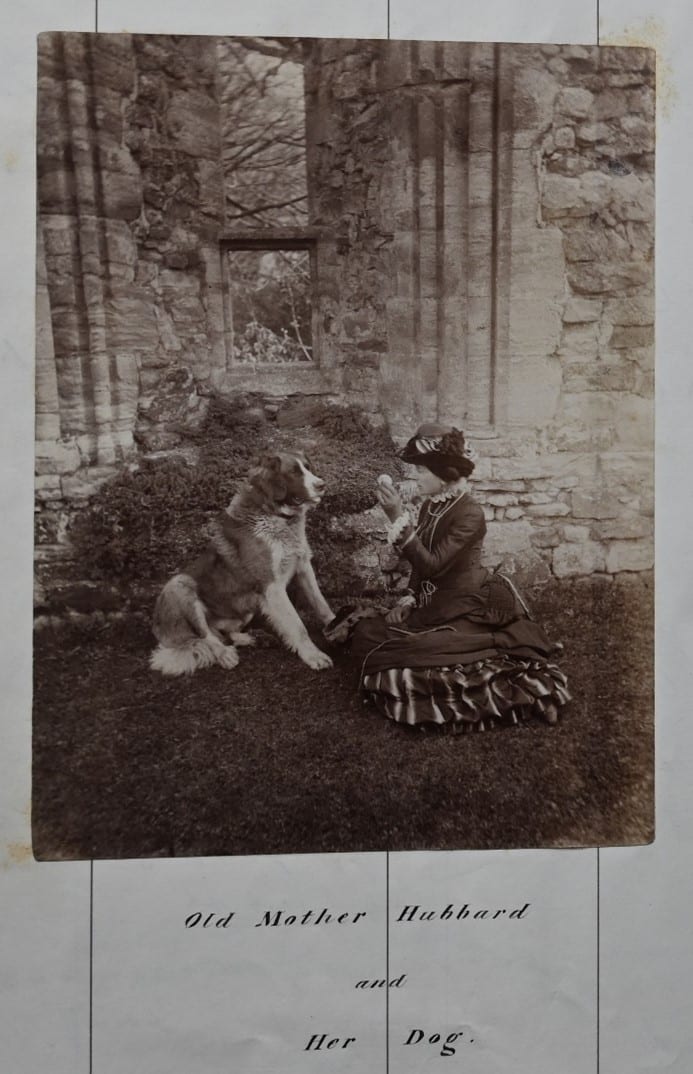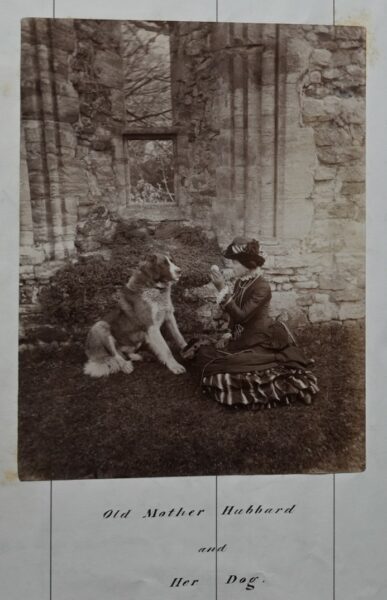 Norman was so popular, he found his way into a periodical magazine called The Animal World, with a story about his fear of Butchers.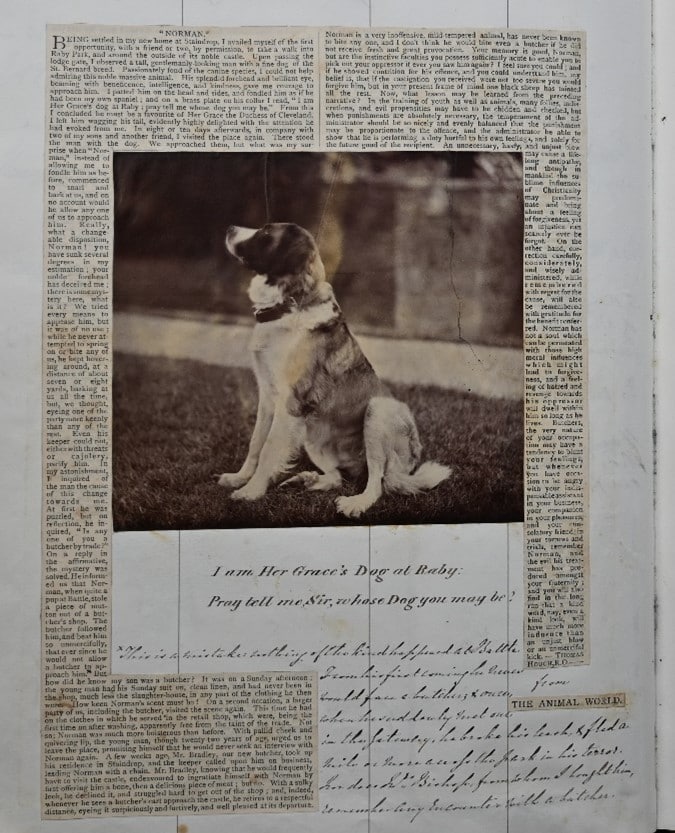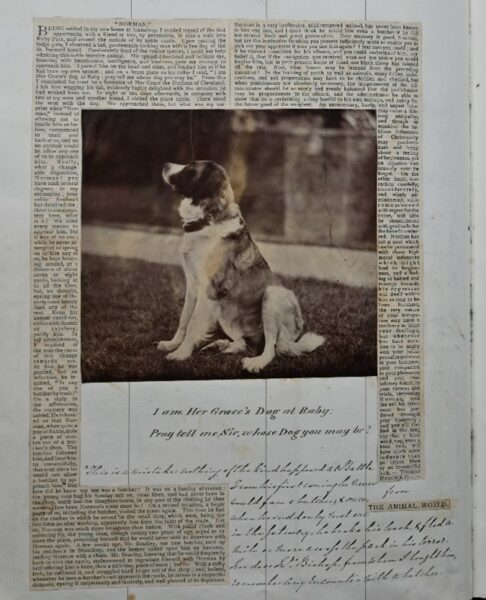 The phrase 'I am Her Grace's Dog at Raby. Pray tell me Sir, whose Dog you may be?' which according to the article was embossed on Norman's collar, is a fun twist on an epigram Alexander Pope wrote in the 1730s, for a puppy he gave to Frederick, Prince of Wales. 'I am his highness's dog at Kew. Pray tell me, sir, whose dog are you?'
In a relatable scene, another photograph shows the 4th Duchess vying for Norman's attention, with the header 'Unrequited Devotion.'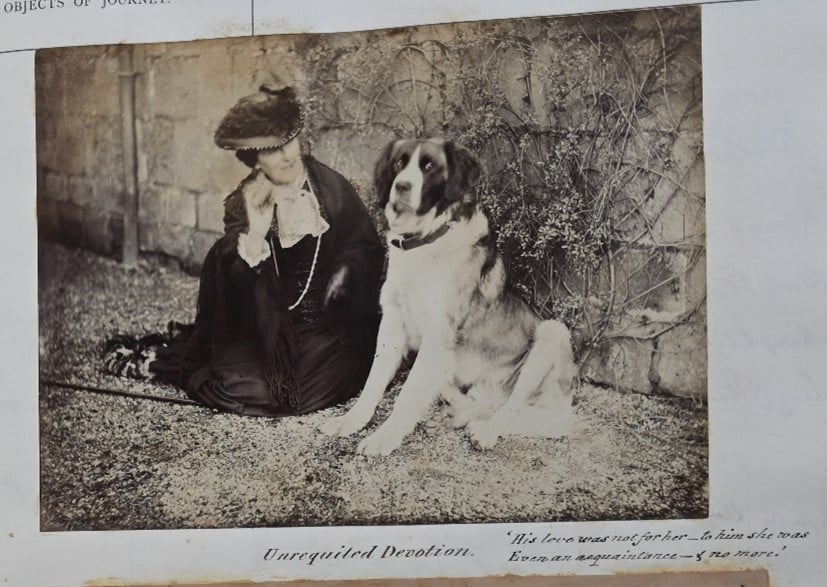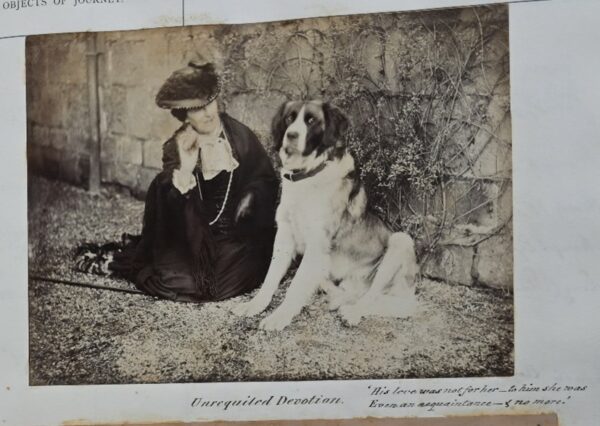 A small watercolour from 1889 is the last we see of Norman, after over nearly 8 years of entries in the Visitor Books. In 1890 the Duke and Duchess didn't visit Raby, and the 4th Duke died in 1891.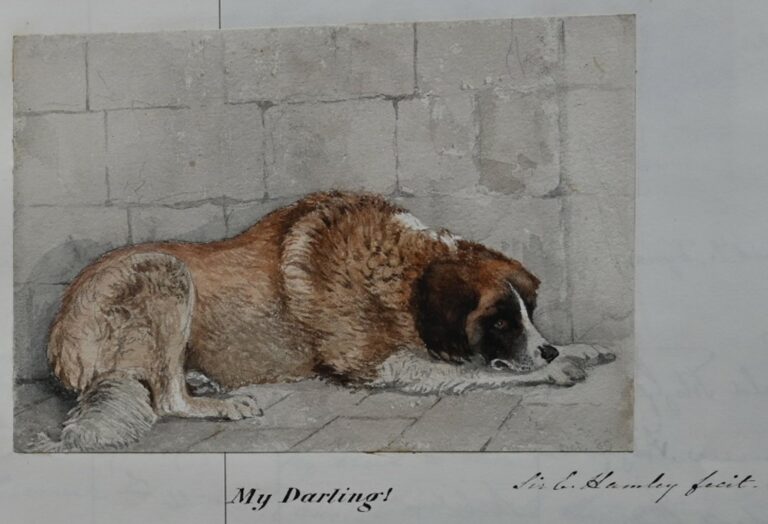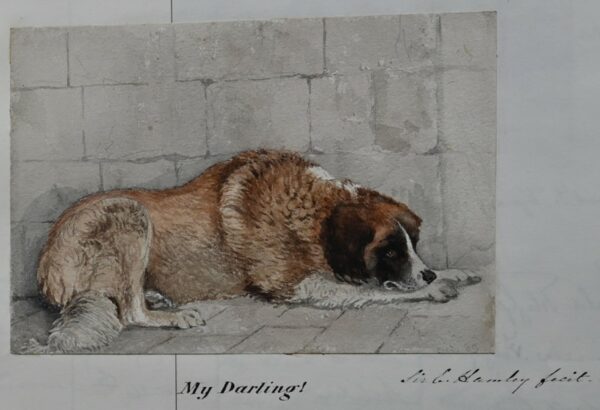 Raby's next Visitor Book was started in 1892 by the 9th Lord and Lady Barnard, who inherited the castle and included their own fair share of dog related entries. A series of photographs in the Raby collection, from the early 1900s, also shows the 9th Lady Barnard following the tradition of keeping and loving many dogs. In this album, each dog has been annotated alongside the family.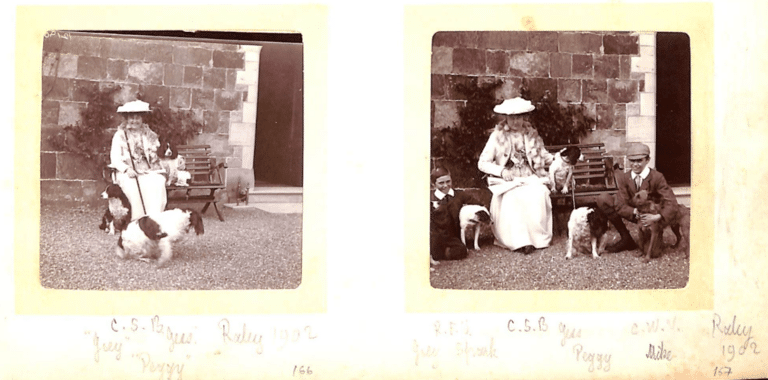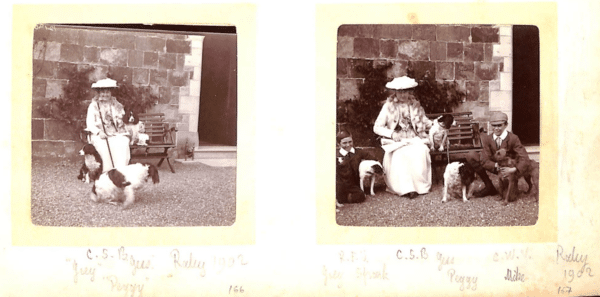 Raby's loyal companions were remembered in touching ways by the family after death.
The 4th Duchess, in her Handbook for Raby Castle from 1870, describes 'A small plantation containing the gasometer, the brewhouse, and a cemetery for six little dogs belonging to Lady Augusta Poulett.'
Pet cemeteries became a popular way to commemorate beloved pets. A major public pet cemetery opened in the 1880s in Hyde Park, started by a burial of dog Cherry, whose owner used to walk her there daily. Over 1,000 burials took place before it became full in 1976, and during the 1900s more cemeteries opened around Britain. Others chose to create private cemeteries in their grounds, as Lady Augusta did at Raby. It looks to have grown significantly when this photo was taken in the late 20th century, with one grave marker showing the date 1947.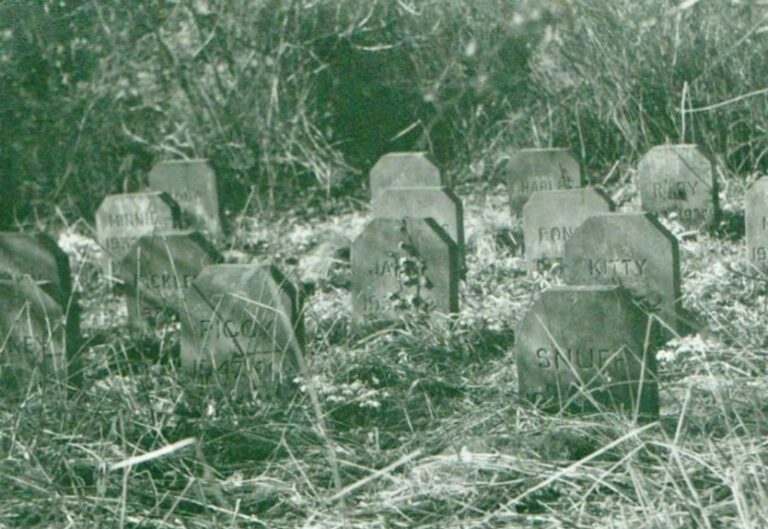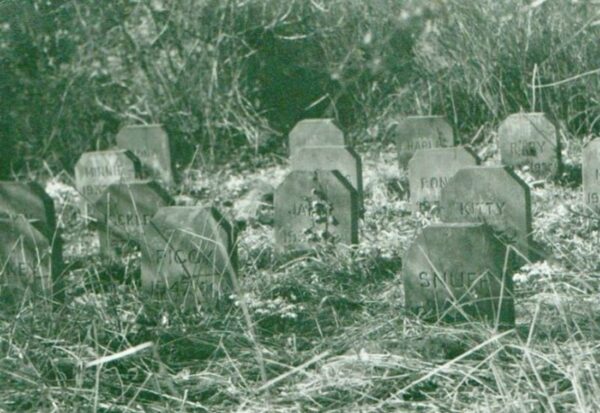 (Photograph of the pet cemetery in Raby's grounds, taken by Jack Walton, a Raby Joiner. With thanks to Ann Thorn. (late 20th century)
Elizabeth, the 1st Duchess of Cleveland at Raby had a different way of remembering her dog. Many visitors to Raby will remember Sally… in the form of a lap rug. Sally, a King Charles spaniel, was supposedly the favourite dog of the 1st Duchess. Once displayed in the Ante-Library, Sally is now in safe storage for her own protection against pests and other damage.
In the present day, Raby welcomes your four-legged friends into the Deer Park, Yurt Café and Stables Shop. Situated where we are you will be spoilt for choice for 'walkies'