Reopening Update – Wednesday 24th June 2020
Following the latest Government update about the relaxation of lockdown restrictions we are very pleased to let you know that from Saturday 4th July we will begin to reopen more of our facilities at Raby Castle and at High Force for visitors to enjoy.
As with the facilities we have opened so far, we will are taking a gradual approach to reopening additional areas, which will eventually include the Castle, Woodland Play Area and the Stables Café and Shop at Raby Castle, and High Force Hotel and restaurant. We are following guidance closely to make sure we do this in a safe and controlled way, so that when you visit Raby Castle and High Force the experience is both safe and enjoyable. The experience will feel a little different to how we've opened in the past, but we can promise that your visit will still feel special!
We will share further information on our website and social media with you over the coming week about what will be opening and when, as well as details about the safety measures we have put in place so you know what to expect when you visit us. Please check before travelling, as it may take us a little time to get ready to open and the opening of some facilities may be subject to change. In the meantime, the Walled Gardens, Deer Park and Refreshment Kiosk at Raby Castle, and High Force Waterfall and Refreshment Kiosk continue to open daily from 10a.m.
We are looking forward to welcoming you back to Raby Castle and High Force this summer – thank you for your continued support.
---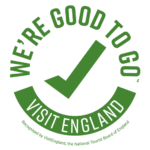 Good to Go Certification
Raby Castle and High Force Hotel are proud to have been awarded Good to Go Certification from Visit England in recognition of the steps we have taken to follow government and industry COVID-19 guidelines, ensuring processes are in place to maintain cleanliness and aid social/physical distancing.
---
Raby Castle, Park and Gardens
Download the latest Visitor Information for Raby Castle
High Force Hotel and Waterfall
High Force Waterfall, Car Park, Hotel and Restaurant have now reopened.
As always, our team are on hand to provide a warm welcome, although to keep both them and you safe, we will try to help from a safe distance. Parking charges apply at High Force, and Waterfall tickets can be purchased online.
Look out for the signage: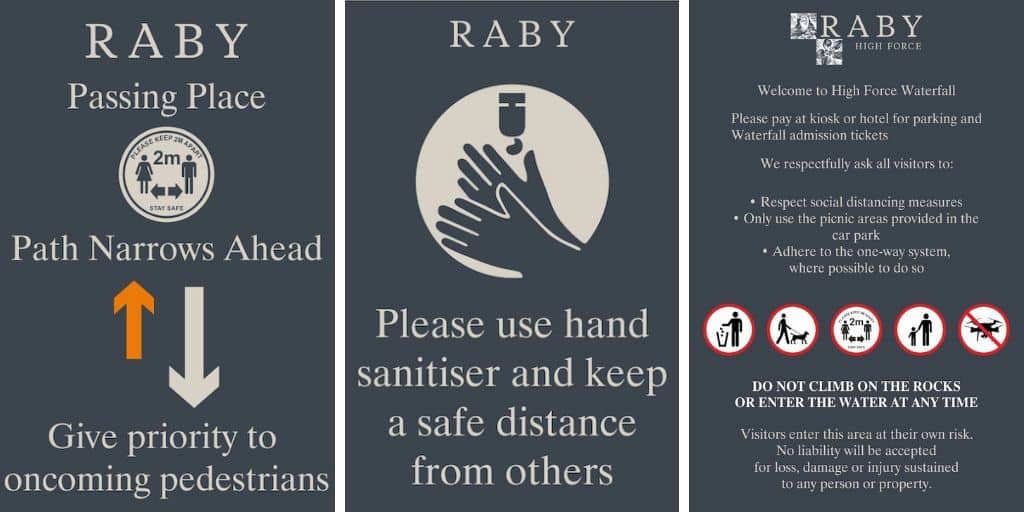 Please park with consideration, keeping a safe distance from other vehicles.
Only use the picnic area in the car park, and do not take picnics down to the Waterfall.
Limited toilet facilities are available at High Force. Please use the hand sanitiser provided and queue at a safe distance from others.
There is plenty of space for everyone at High Force, but please follow the social distancing measures we have put in place, maintaining a 2 metre distance from our staff and other visitors at all times.
We have created a circular route to enable greater social distancing, when visitors walk to see the waterfall. There is a new path which you should use for your return journey, to avoid passing other pedestrians. Please adhere to the one-way system where possible to do so. The circular route is steep in places and is not suitable for less mobile visitors.
Please dispose of litter responsibly so our staff do not have to handle this unnecessarily.  Please use the bins provided
Track and Trace
We are committed to supporting the NHS Track and Trace programme. Visitors may be asked to provide contact details when visit to Raby Castle or High Force, to be shared with Public Health England, should there be a notification of a Covid-19 positive case.
We will continue to review the measures we have put in place and if you have any feedback you would like to share with us please email admin@raby.co.uk