Lord Barnard Announces Ambitious Development Plans at Raby Castle
Wednesday 28th July, 2021
After standing as a landmark within County Durham for the last 700 years, Raby Castle announces significant investment to enhance the visitor experience of the Castle, Park and Gardens, securing it as an important resource for the local community.
The ambitious plans for a two-year major development programme, which were passed by Durham County Council in December last year, will restore and preserve historic buildings within the park and gardens, which have been without purpose for decades.
---
Looking to the Future: A Community Message from Raby Estates
19th March 2021
As you may know, we recently received planning permission from Durham County Council for the development at Raby Castle of a world-class tourism and leisure facility and for the delivery of housing in Gainford and Staindrop. While there has been a very positive response to our proposals, we understand there is a variety of public opinion over our housing development plans.
---
Raby Estates continues dialogue with Parish Councils over development plans
8th March 2021
Raby Estates announced that it is seeking further talks with communities in Gainford and Staindrop over proposals to create a landmark tourist and visitor attraction at Raby Castle.
The estate was granted planning permission in December to build 151 homes in Gainford and Staindrop to enable the tourism development which will cost in the region of £16 million. The parish councils in the two villages supported the redevelopment at Raby Castle but opposed the housing development. They are now trying to raise funds for a judicial review of the planning decision.
Duncan Peake, chief executive of Raby Estates, said he had written to both parish councils requesting the opportunity of further engagement. Copies of the letters are available to view below.
Duncan said: "During the public consultation late last year, the majority of residents supported the housing and the tourism development which will provide a real economic boost to the area.
"Some villagers in both locations have raised points of detail about the housing development proposals and we are keen to discuss those further with the communities as well as the parish councils.
"The proposed housing is designed by a leading and nationally-recognised architect and we have gone to great lengths to ensure that the scheme is sympathetic to the heritage of both villages.  We are anxious that the support this has received from thorough public consultation continues to be reflected in the local public debate over the proposals. We have written to both parish councils today and hope to be invited to contribute to a special meeting of Gainford Parish Council this week.
"We will spare no effort in trying to find a resolution to any local concerns. The cost of a judicial review would be very substantial for all concerned and if there is a solution to be found then we will do everything we can to help achieve it. We are grateful for the widespread support we have received to date. At the Gainford public consultation: 69% of feedback form responses were in favour of new housing in the village; 97% were supportive of our proposals to restore Gainford Hall; and 82% were in favour of the proposals to the castle."
Raby Estates letter to Gainford & Langton Parish Council 08 March 2021 
Raby Estates letter to Staindrop Parish Council 08 March 2021 
---
Pedestrian Access to The Plains for Staindrop Residents
January 2021
The area of Raby owned land known as the Plains to the east of Staindrop has for some years been made available as a pedestrian access area for the benefit of Staindrop residents.
In recent weeks we have received a number of complaints regarding the use of this area. We are therefore intending to erect signage at the entrance to the Plains to ensure those visiting the area are aware of the terms upon which the access area may be used.
Please note that the access area is also to be extended further east to the West Side Farm cattle grid. We hope this will enhance the enjoyment of this area by local residents.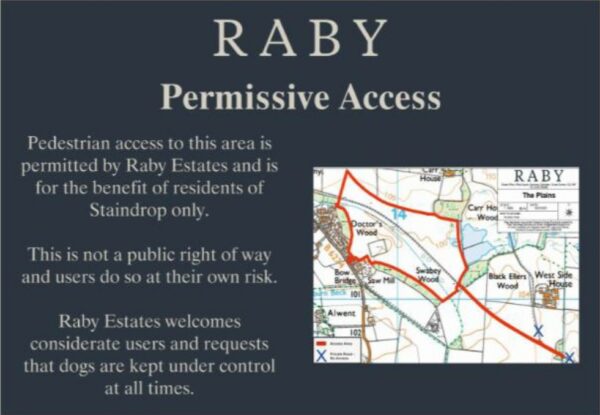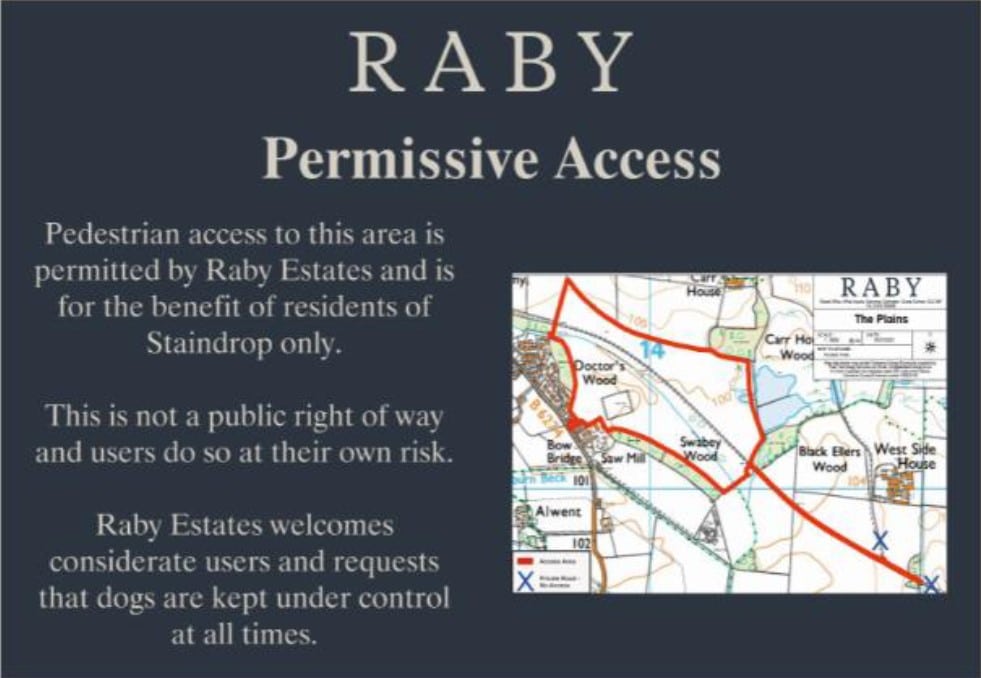 ---
Updated coronavirus information for Raby Castle and High Force Hotel & Waterfall
Updated 12th January 2021
Our outdoor spaces at Raby Castle are open for local visitors and annual pass holders to exercise safely.
High Force Waterfall, and High Force Hotel and refreshment kiosk are closed at this time.
Tenants who need to contact the Estate Offices for whatever reason should do so in the normal way.
Raby Estate Office, Co Durham – 01833 660888
For further information and answers to Frequently Asked Questions, visit our Coronavirus page.
---
Latest Estate Newsletter
Spring 2021
The latest issue of the Estate Newsletter is now available.
If you are on our mailing list you will receive a download link by email. You can also download a copy of our newsletter and past Estate Newsletters here.
---