The Twelve Days of Christmas have been celebrated since medieval times. In the 14th century when Raby Castle was built, the Twelve Days began on Christmas Day itself, celebrating the birth of Christ, then would carry on until Twelfth Night on 5th January – a huge celebration involving feasting, drinking and merrymaking which heralded the end of winter. Taking our inspiration from the 18th century song, the Twelve Days of Christmas, we challenged the castle team to find a link with each of the gifts given over the 12-day period. Our daily celebration will provide a light-hearted glimpse of the stories of the people who have lived and worked at Raby Castle over the centuries.
A Partridge in a Pear Tree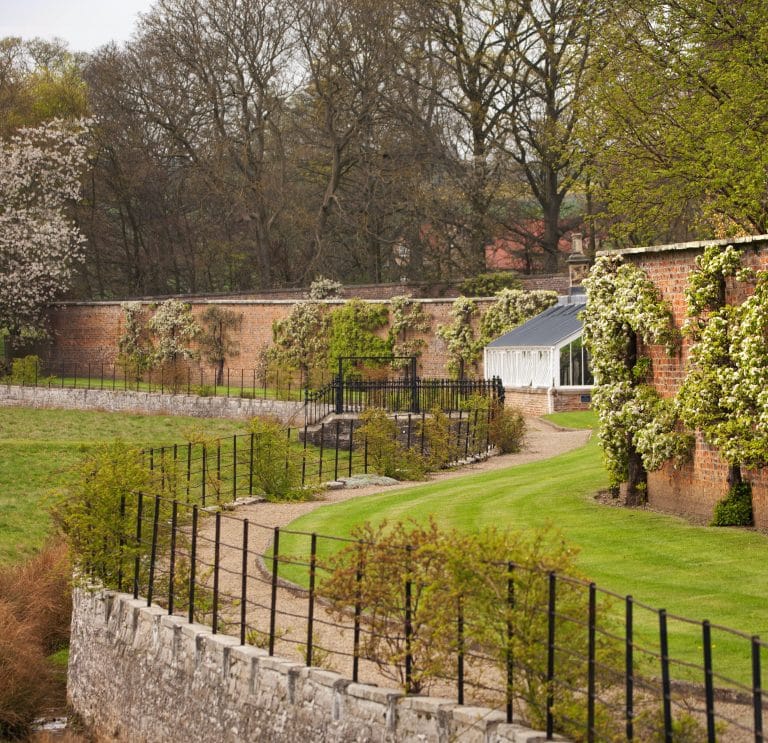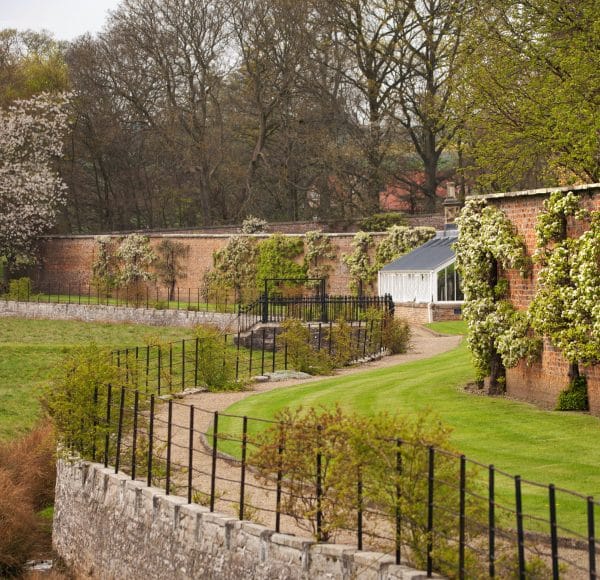 On our first of the Twelve days of Christmas, we celebrate the gardens. Although we have not managed to photograph a partridge in our pear trees, our gardens team take great pride in the historic Raby fruit trees. Pictured here in autumn 2020 our espalier pear trees, planted on a sunny south facing wall at the bottom of the walled garden.
Raby has a long tradition of fruit growing and in the temperamental climate of the north-east, some surprising fruits have been grown. Pears and apples might be expected, and other historic fruit trees and bushes still thrive including the Raby redcurrant created by the Head Gardener in the 19th century, and a white Ischia fig, brought to Raby from Italy by William Harry Lord Barnard (later the 3rd Earl of Darlington), which can still be seen in its purpose-built fig house, just along from the pears.
Figs were not the only exotic fruit grown at Raby and heated walls and specialist structures have seen crops of peaches, grapes and even pineapples grown successfully.
The Raby gardens have a fascinating history  of their own. During the pandemic they have been a haven for so many visitors and when we were unable to open the castle, became a place of safe participation in events as varied as open-air cinema, yoga and a Halloween trail. The gardens are so well-loved that in 2021 we will be launching a new Garden Tour looking at the history, planting and future of this much-loved space. Sign up to our mailing list to be the first to hear when the tour is launched.
Two Turtle Doves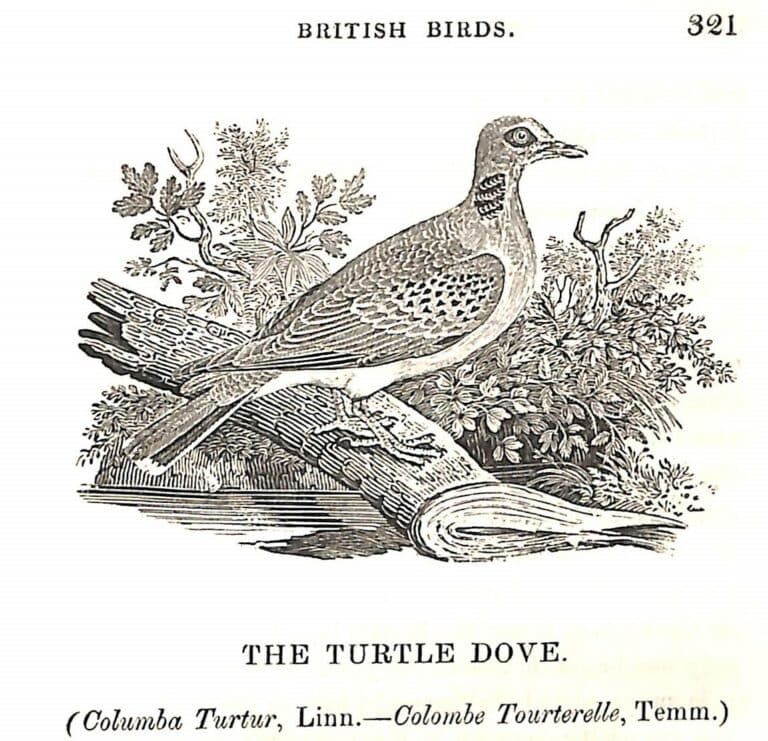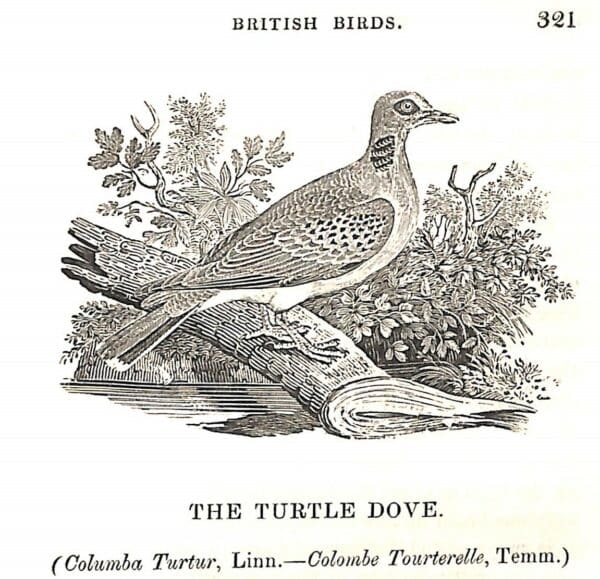 According to Thomas Bewick, author of A History of British Birds, first published in 1797 …
"The note of the Turtle Dove is singularly tender and plaintive: in addressing his mate, the male makes use of a variety of winning attitudes, cooing at the same time in the most gentle and soothing accents; on which account this bird has been represented in all ages as the most perfect emblem of connubial attachment and constancy".
With such symbolism, what better gift could a true-love bring on the second day of Christmas?
The library at Raby Castle has copies of both volumes of Bewick's work on British Birds and his earlier work on a History of Quadrupeds.  Born in 1753 in Northumberland, Bewick was a tearaway child who frequently played truant from school, preferring to spend his time in the great-outdoors and in observing and drawing wildlife. He trained as an engraver, temporarily leaving the north-east to seek his fortune in London but was soon drawn back to his childhood home, Cherryburn, now owned by the National Trust.
At a time when engraving on copper plates was more common, Bewick preferred to work on wooden blocks – pushing the boundaries of wood engraving to their very limits. His intricate, life-like prints include the full range of British birds, interspersed with bizarre scenes as varied as a child blowing soap bubbles from a clay pipe to a convict wrestling with a demon en-route to the gallows!
But birds were clearly his passion. In the introduction to Volume 1 of a History of British Birds, he writes ….  "In no part of the animal creation are the wisdom, the goodness, and the bounty of Providence displayed in a more lively manner, than in the structure, formation, and various endowments of the feathered tribes".
Three French Hens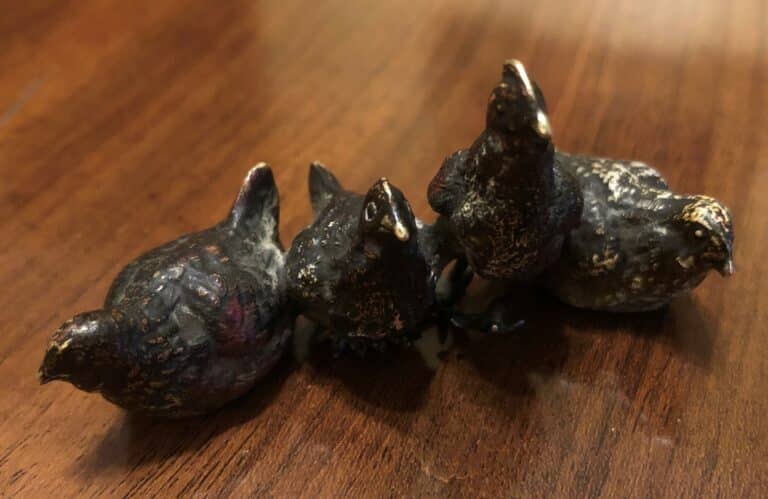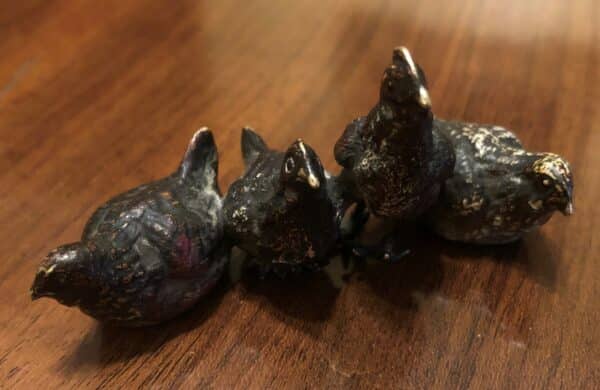 Today our glimpse of the Raby Collections is of a tiny brass model of three hens and a cockerel. Rather than of French origin, they are believed to have been made in Germany at some time before 1883. The only clue to manufacture being a little stamp reading "Geschutz" on the base – meaning 'protected' – a 19th century copyright system used in Austria and Germany.
Our three German hens (and a cockerel) are kept in the Duke's Study at Raby Castle which can be visited on our 'Behind the Scenes Tours'.
The study was last used by the 10th Lord Barnard and closed up when he died in 1964 . It has remained a time capsule ever since.  The little model was possibly a souvenir, collected by earlier generations. In the 1870s and 1880s the 4th Duke and Duchess of Cleveland were known to have regularly visited Germany, enjoying the historic cities and taking health cures in spa towns in the company of German nobles such as the Prince de Schwartzenberg, the Queen of Saxony and the Prince and Princess Bismarck who also visited them at Raby Castle.
The Duke's correspondence and memoirs were transcribed by the Duchess after his death and chart these and other journeys. The couple were clearly enthusiastic travellers and describe every aspect of their travels, from the landscapes they travelled through to the conversations they had with the people they met. German crafts and toys clearly made an impression on the Duke as he mentioned them in his writing. This tiny model – which he seems to have used as a paperweight – is one of a number of  items dating from the 19th century that were made in Germany  – perhaps a small reminder of their travels when the couple returned home.
Four Colly (or Calling) Birds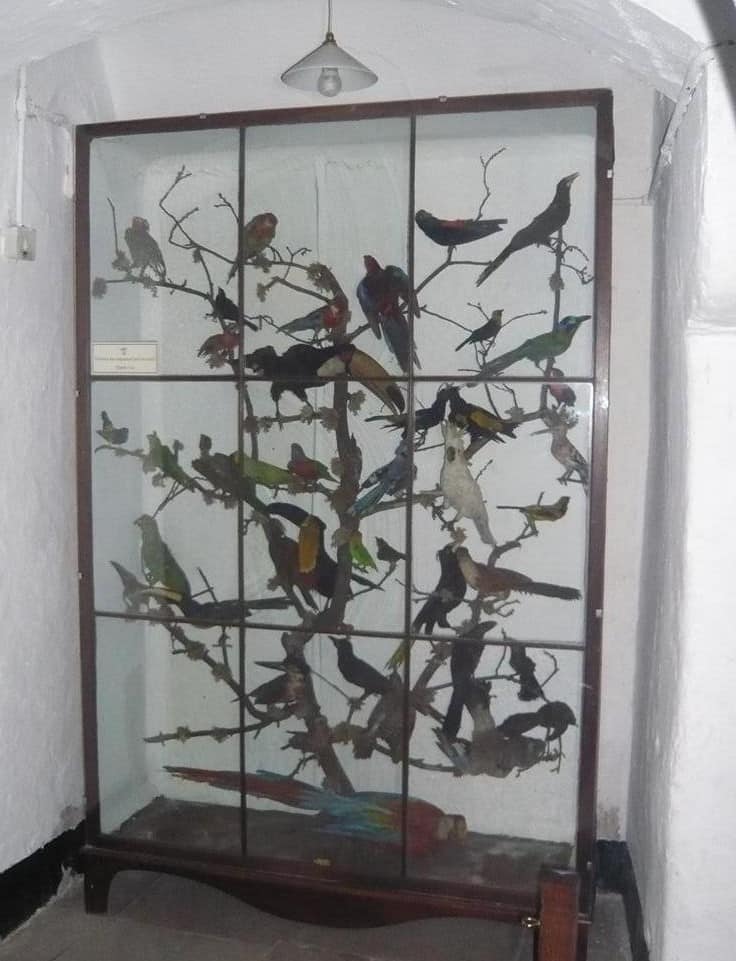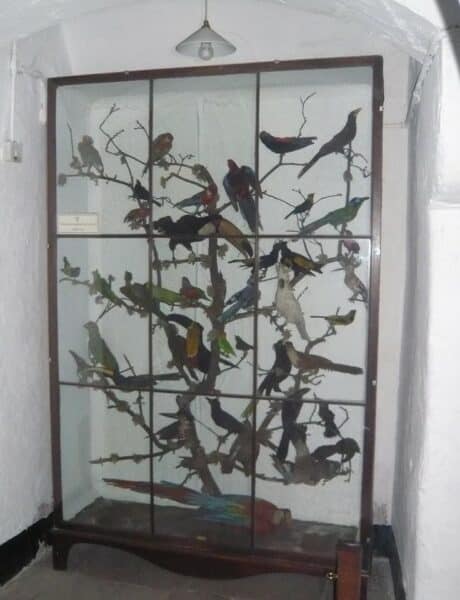 Today often written as 'Calling birds', early versions of the Twelve Days of Christmas list this gift as four 'Colly Birds' – a Colly Bird being a bird as black as coal – our blackbird.
In the 19th century, many wealthy collectors embracing new scientific research actively sought to acquire and display natural history specimens from the UK and further afield.
Raby was no exception and traces of these animal collections still survive at Raby Castle, including a case displaying a variety of birds of many colours – black birds included. Many of these specimens were believed to be collected by Elizabeth, 1st Duchess of Cleveland  (1777-1861).
This summer, student Dorothea Fox from Durham University carried out an internship at Raby during which she researched Elizabeth's 'Museum of Natural History'.
Here she summarises her findings in her blog Whatever Happened to Raby's 'Museum of Natural History'? So, on this fourth day of Christmas, why not settle back with a cup of tea and a mince pie and discover more about this fascinating aspect of Raby's past.
Five Gold Rings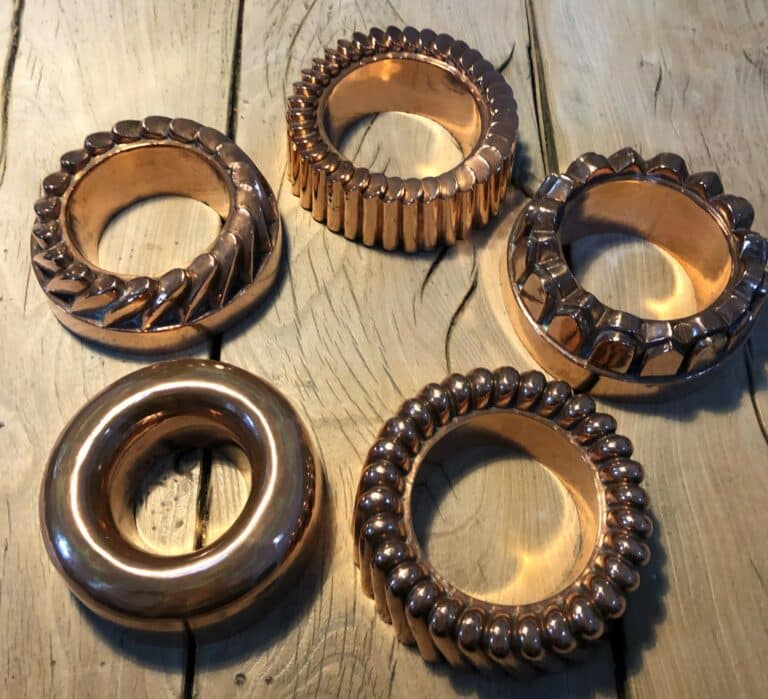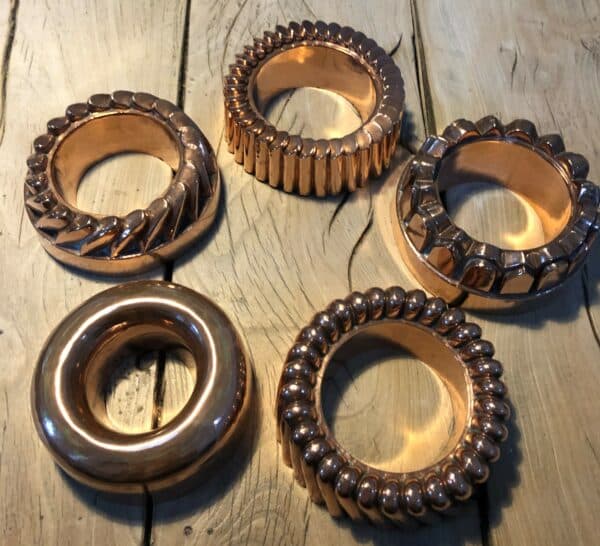 Of course these glittering rings are copper, rather than gold, but they form part of Raby Castle's pre-eminent  – and therefore gold-star collection of furnishings and furniture in the medieval kitchen. Built in the 14th century and remaining in use until the 1950s the kitchen remains a firm favourite part of any visit to the castle.
Part of the appeal of the kitchen lies in the array of gleaming copper pots, pans, urns and especially our collection of moulds of all shapes and sizes.
Foods set in a mould have been popular culinary showpieces from the medieval period onwards, evolving over the centuries to include dishes, from jellies and  mousses to ice-cream and blancmanges. Often highly elaborate, these decorative delicacies could be sweet or savoury.
A handwritten recipe book in the Raby collection dating from the 1780s shows that variety of uses such moulds could be put to ….  "Oysters in a Green Mould" used veal, spinach juice and oysters set with gelatine, "A Newmarket Pudding" set lemons and cherries with breadcrumbs, eggs and sugar, and the book contains several recipes for "Iceland Moss Jelly"; a fortifying food for invalids considered especially suitable for anyone suffering from a sore throat or bronchitis.
The shapes of the moulds vary, from ornate castles with turrets and towers, to tiny individual flowers, and of course the variety of decorative ring moulds. Many of the moulds are marked with the stamp of the maker and also a mark denoting the owner – here seen as the C for the Cleveland under Ducal Coronet – a reminder that during this period Raby Castle was owed by the Duke of Cleveland whose cook might well take their own kitchenware when they travelled to other houses.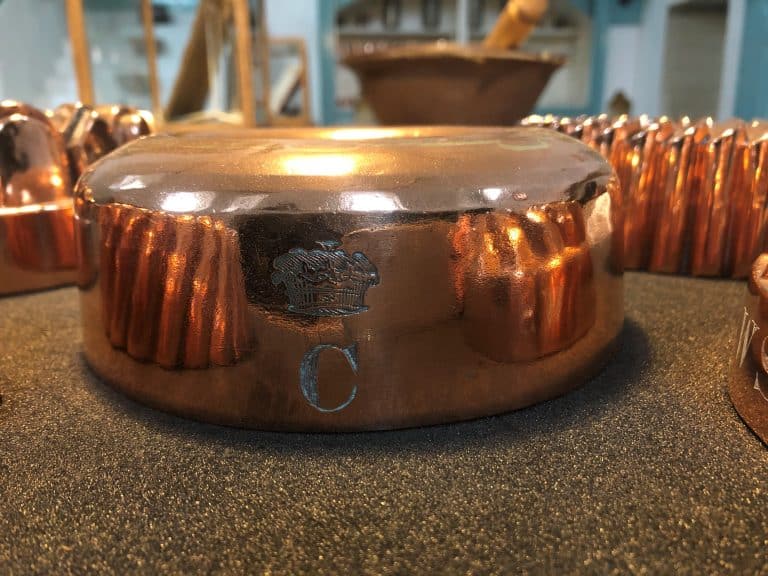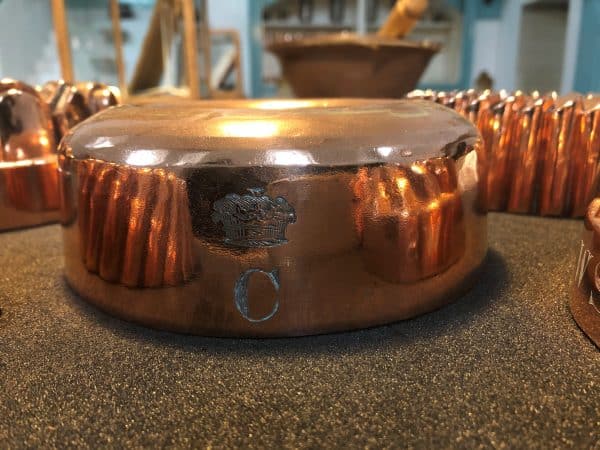 Cleaning the copper at Raby is an annual task embraced with gusto by our volunteer team. The annual cleaning takes place just before the castle opens for the season and is traditionally an opportunity to catch up as a team and enjoy one another's company.
For many during 2020, volunteering was impossible and as we move towards 2021 we take the opportunity to wish all of our volunteers a happy, safe and healthy year.
Whilst the Covid restrictions may mean that the annual copper clean for 2021 has to be very different, we look forward to presenting visitors with the much-loved view of a gleaming historic kitchen.
Six Geese A Laying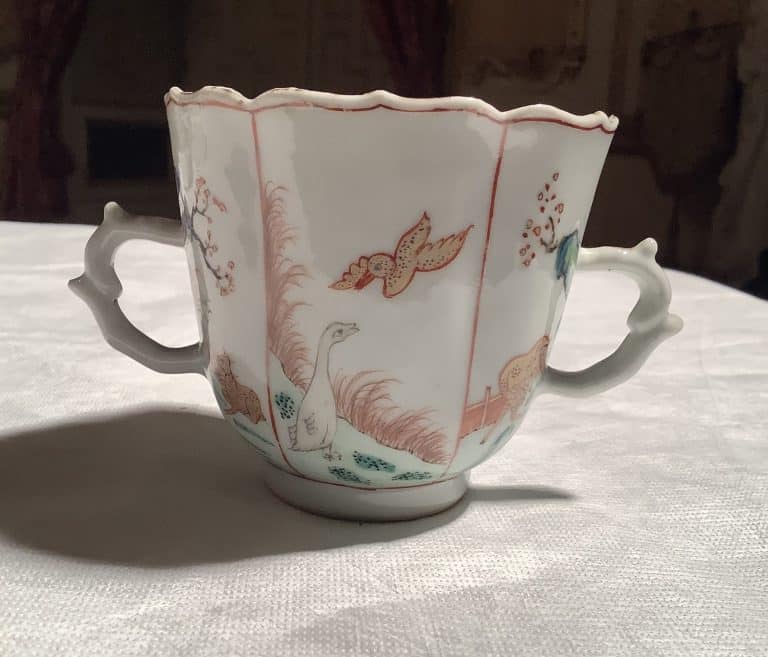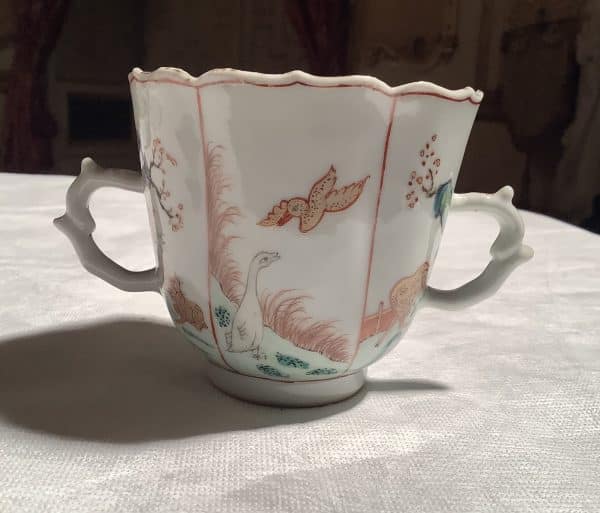 Tucked away in one of the porcelain display cabinets at Raby are a pair of charming little double-handled beakers. One of which depicts a variety of birds and animals in a stylised landscape including a simple but rather sweet depiction of a goose.
During summer 2020 four postgraduate students from the School of Museum Studies at Leicester University carried out a 'virtual' research placement at Raby Castle, helping us to better understand our Chinese and Japanese ceramics. This little cup was studied by budding curator Manle Li s as part of this project and her conclusions were fascinating. After studying the painting and the shape of the cup (and particularly the handles) in detail, Manle concluded that it was in fact a European example and that the birds and animals weren't quite a match for the Chinese painting style. Her online research led to other examples of 18th century two handled cups of the Chinese style in collections of the British Museum and the V&A which were the same, distinct shape.
Raby Castle enjoys regularly hosting student placements and even during the challenges of 2020 found a way to continue this tradition virtually. Placements provide an opportunity for focused research into collections that have been given limited attention in the past. We would like to take this opportunity to thank ALL of the students that worked with us in 2020 and look forward to working with the next cohort in 2021.
Seven Swans a Swimming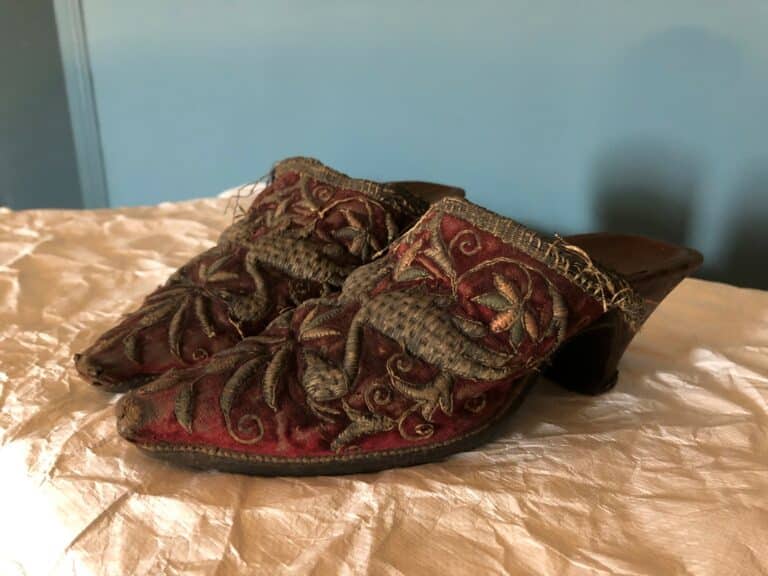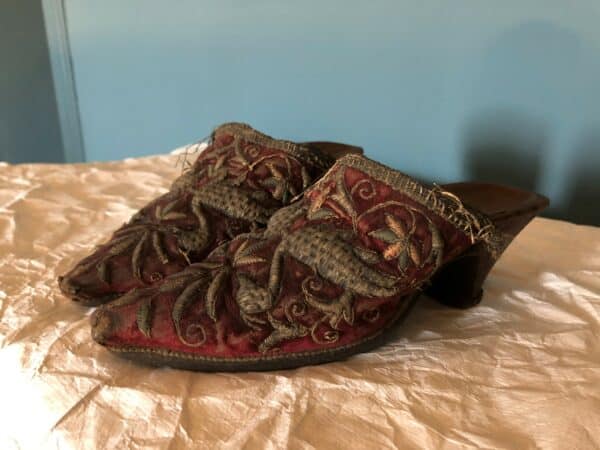 It takes a bit of searching to see how these fine slip-on ladies' mules relate to the gift given on the seventh day of Christmas …. Although to the wearer it would have been perfectly clear.
Viewed from above, each of these embroidered red velvet mules depicts (not seven, but..) two Swans a Swimming.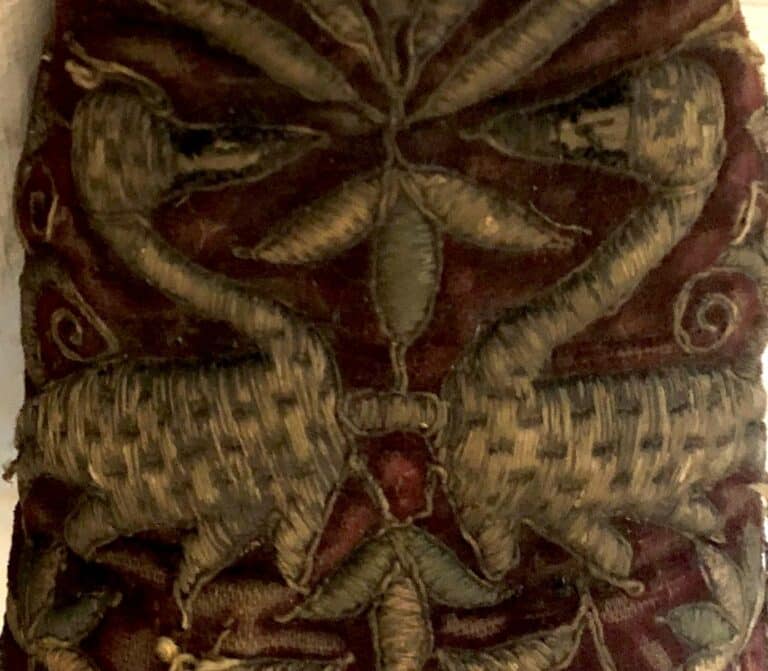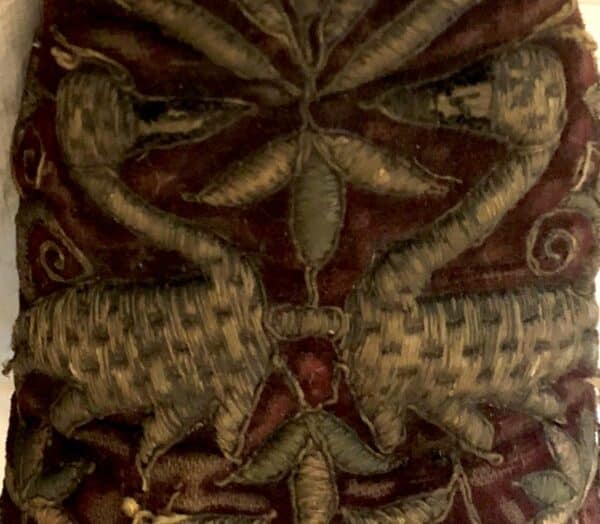 Swans have held deep and symbolic meaning in England since Roman times; featuring in classical myth and legend, fairy tales and folklore. The shape formed by the necks of two swans facing one another can be seen to form a heart and swans have come to symbolise love, strength and loyalty…. A perfect token to be sent by a true love.
These exquisite shoes were made in around 1670. The swans and other motifs were embroidered on to red velvet. We don't know who they belonged to, but in the 1670s the castle had been owned for around 50 years by the Vane family. Perhaps it isn't too great a flight of fancy to speculate that one possible contender was Elizabeth Holles who married Christopher Vane, the 1st Baron Barnard in 1676 – exactly around the time these sentimental shoes were made.
Eight Maids a Milking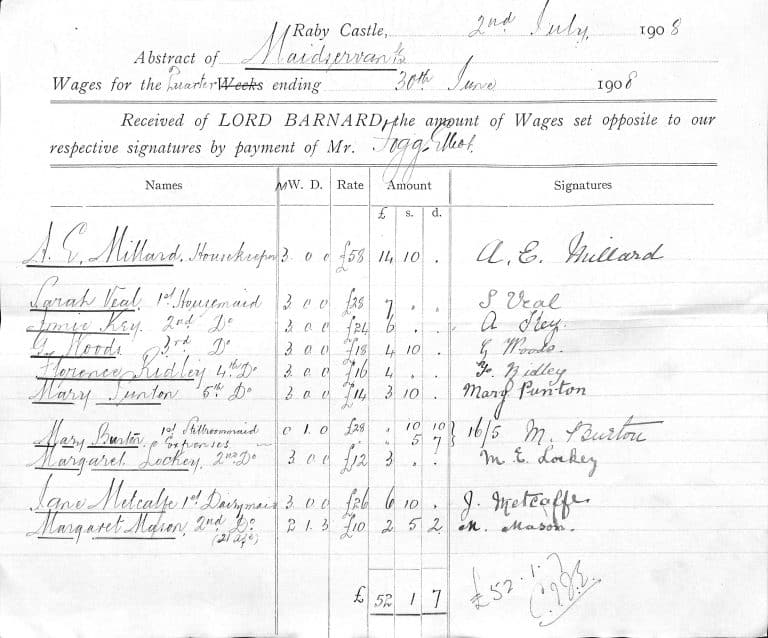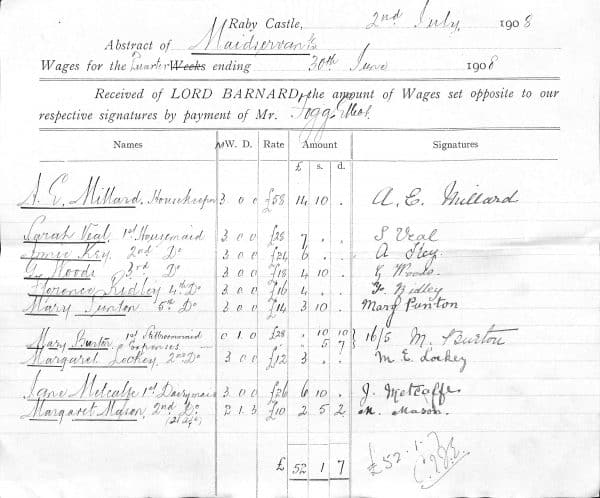 During the first UK lockdown, a number of our willing band of volunteers who so tirelessly support Raby worked with our Curator on a project to understand more about the people for whom Raby Castle has been their workplace.
Transcription and analysis of some of the records relating to Raby's servants at various points from the 1890s to the 1920s is helping to build up a picture of how life changed for working people during decades that saw major advances in domestic technology, not to mention political change and war on a scale that had never been seen before.
One such role that can be traced from the records is that of the Dairymaid. In 1900 Raby Castle employed two dairymaids. Jane Metcalf and Cissie Glendinning. Jane was 1st Dairymaid with an annual salary of £26 – slightly higher than the corresponding role of 1st Kitchenmaid. Cissie  was in training as 2nd Dairymaid and earned £10 a year.
Research into the archives suggests that rather than going "a-milking" the two dairymaids would have collected milk and eggs daily from Raby's Home Farm. Their job was then the regular production of dairy products for the family and servants hall; churning butter, separating cream and making different cheeses for the household.
Jane and Cissie would have been expected to keep the dairy spotlessly clean and hygienic – in the preceding decades, advances in the study of chemistry and microbiology had greatly improved understanding of the scientific basis for food hygiene. The works of scientists such as Louis Pasteur soon impacted in a domestic setting and the nation became obsessed with the previously hidden world of bacteria and germs.
Jane is known to still have been working for Raby in 1908 (as seen on the wage record pictured here), although Cissie had been replaced by Margaret Mason – both women on the same salaries as in 1900.
The project to transcribe the Raby servants records continues, so that in future we can build up a clear picture of the working life of the estate. Thank you to all of the volunteers who have been involved.
Nine Ladies Dancing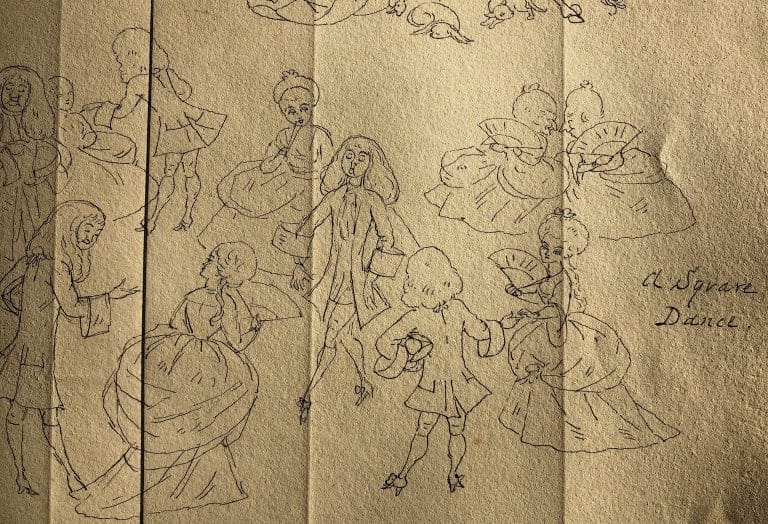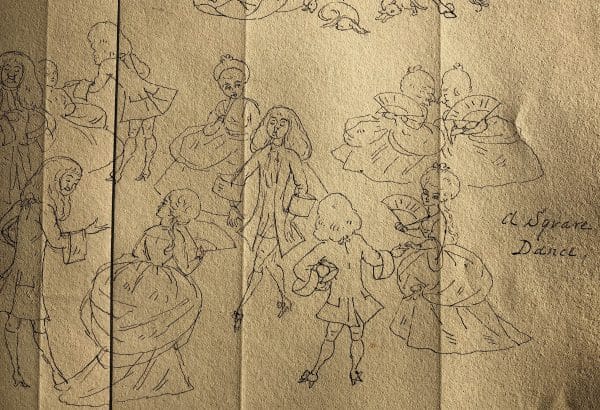 Ever since its earliest origins, Raby Castle has been a place where people have been welcomed for music, feasting and dancing. Generations of the household and their guests were entertained from the rare stone Minstrel's Gallery in the Barons' Hall and over the centuries, parties, balls and concerts have continued the tradition.
During the 19th century, visitors staying at Raby were encouraged to write in the castle's visitors book. These incredible books are now housed in the Raby archive and are filled with witty comments, jokes and poems about the hospitality received.
Many visitors chose to reflect on their stay through drawings or paintings rather than words. Here, the illustrator Richard Doyle who was a regular visitor to Raby Castle,  states his reason for visiting in 1869 as "to Dream of Raby in the Olden Time". Taking up two full pages of the visitors book, Doyle fills the space with illustrations of card games, sumptuous meals and here, his imagining of ladies and gentlemen enjoying a square dance.
Ten Lords A Leaping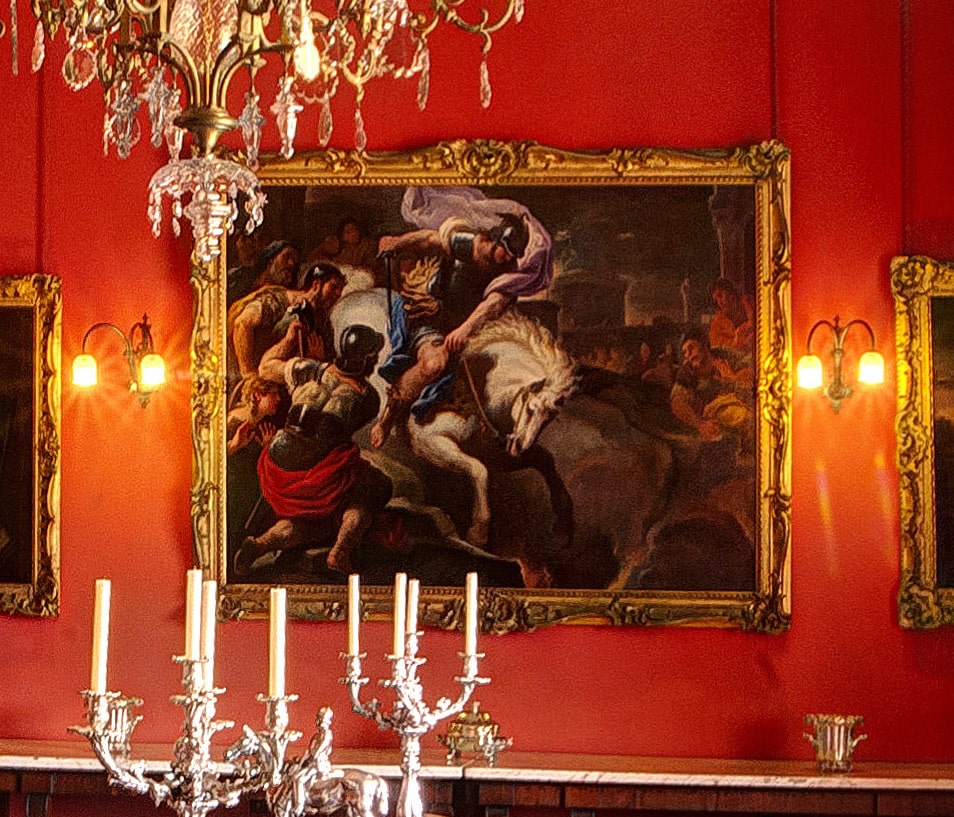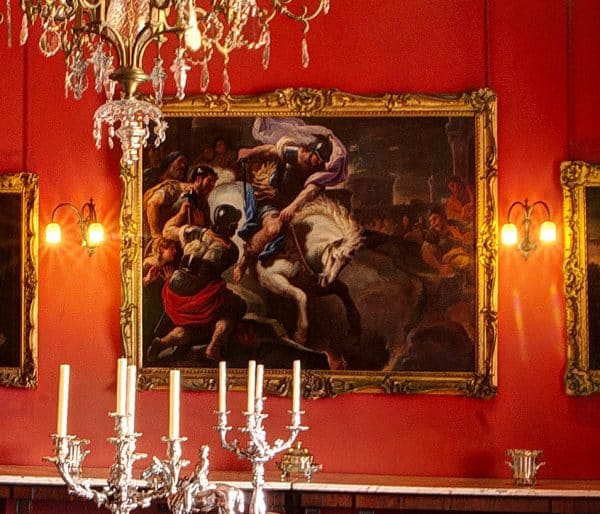 Raby Castle has been home to many Lords and is currently owned by the 12th Lord Barnard. It is not really known why in The Twelve Days of Christmas the Lords are 'A-Leaping' but it certainly implies a degree of energy and progress; leaping forward or leaping into action.
Type the word 'Leaping' into the collections catalogue for Raby Castle and one item 'leaps' out. Earlier this year our Senior Guide Keith Simpson revealed that his favourite in the Raby collections is the 17th Century masterpiece 'Marcus Curtius Leaping into the Gulf' by Luca Giordano.
On our tenth day of Christmas,  Keith shares his passion for the painting which is on display in the Dining Room at Raby Castle. Read more here.
Eleven Pipers Piping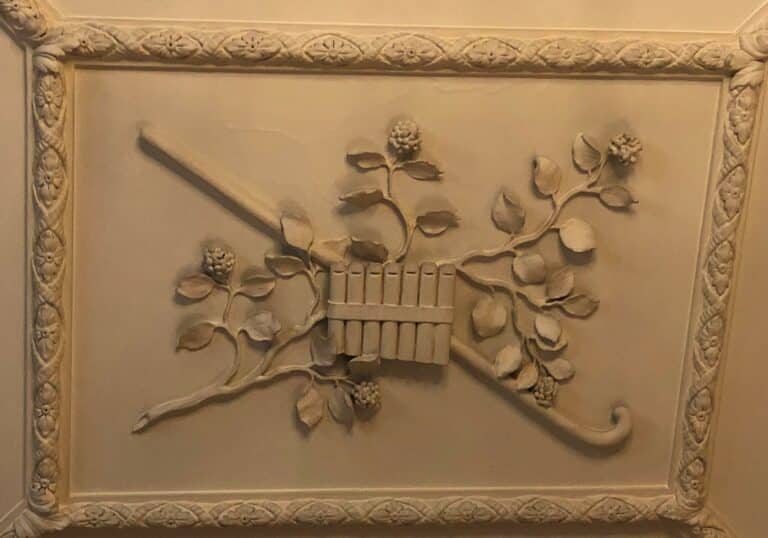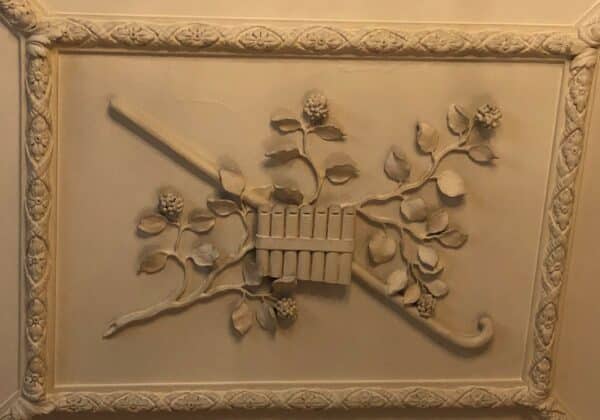 Look up in the Small Drawing Room at Raby Castle and you will discover clues to the room's past use.
Much of the architectural detail of this room dates from the mid-18th century when architects James Paine and Daniel Garrett worked at Raby.
Musical instruments abound with pan-pipes, a horn and a lute. In the  late 19th century, the 4th Duchess of Cleveland tells us in her 'Handbook of Raby Castle' that the room was used for music … but only in the morning!
Other symbols on the ceiling reflect different interests of the couple, including commerce and outdoor leisure. The room is still filled with art and artefacts that reflect the interests of the family in years go by, and in particular a love of horses and a celebration of the prizewinning racehorses that were bred in the 18th and 19th centuries on the Raby Estate.
Twelve Drummers Drumming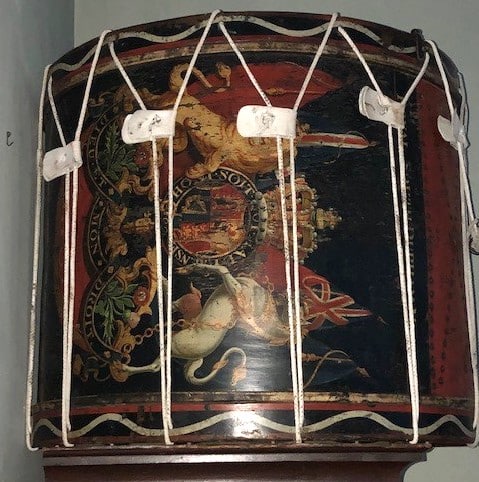 Our last item in the Twelve Days of Christmas series is this impressive Regimental Drum of the South Durham Militia.
The Durham Militia was formed in 1759 by the 2nd Earl of Darlington, owner of Raby Castle, after retiring from the army the previous year.
Initially made up of 369 Militiamen who met monthly for training – carrying out their normal lives in between. In times of emergency, the Militia would be deployed as regular soldiers.
The Regimental Band was an important part of military life and the Durham Militia is no exception. This beautifully painted bass drum dates from after 1853 when the Durham Militia divided into the North and South Durham Militia but this was not the end of the story.
When the county's famous Durham Light Infantry was formed in 1881, the North and South Durham Militia became the 3rd and 4th Battalions. Later generations of the family went on to serve in the DLI and their uniforms form part of the collections of Raby Castle.